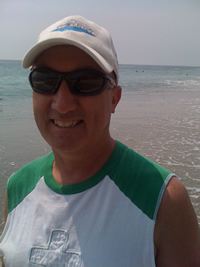 Professor Sean was born in February 1956 in West Palm Beach, Florida, where rockets from the Apollo space program frequently soared overhead, and where nearby reefs offered a bounty of ocean life for exploring the undersea world via snorkeling and scuba. These influences shaped his early life and established his boyhood heroes: John Glenn, an astronaut and the first man to orbit the Earth, and Jacques Cousteau, an explorer and underwater filmmaker, who inspired generations of people to learn more about the undersea world. Later, Pablo Casals, a cellist and humanitarian, would become another important hero.
As a senior at Forest Hill High School (1973-1974), Professor Sean attended Palm Beach Junior College (now Palm Beach State College) where he took courses in oceanography and marine biology. Seeking a degree program in oceanography, he enrolled in the University of Washington (1974-1979), where he received a BA in Oceanography. Uncertain of his path, and having an interest in writing, he completed courses towards a BA in English at UW (1981-1983; awarded 1993). Still passionate about oceanography, he attended the University of Southern California (1983-1989) where he worked with Professor Dale Kiefer and earned a PhD in Biology for his thesis, Light Absorption, Natural Fluorescence and Photosynthesis in the Open Ocean. It was at USC that he traveled aboard Norwegian research vessels and ate fish balls (fish formed into balls, not…) in the Barents Sea, spent five weeks on an icebreaker (R/V Polar Duke), walked on sea ice in the Weddell Sea (Antarctica), and conducted research aboard his hero's ship, the Cousteau Society's Calypso, in the South Pacific Ocean. Captain Cousteau was the real thing, a genuine and remarkable man who led extraordinary efforts to protect ocean resources and promote peace in the world. Meeting Cousteau and working with his team was a boyhood dream come true. Professor Sean continued research in ocean optics and phytoplankton productivity at Lamont-Doherty Earth Observatory of Columbia University (1989-1991, postdoctoral fellow), where he traveled to Iceland, the Azores, and Portugal, while completing research in the North Atlantic Ocean. While at FC, Professor Sean participated in cruises to the Bermuda Triangle (i.e., Sargasso Sea) and the Greenland Sea.
To earn money for all this college, Professor Sean began working at age 12 when he started his own lawn mowing business. In high school, he continued to mow lawns, worked holidays in Christmas tree lots, and worked part-time for a private laboratory, Bio-Viro-D, where he fed catfish, among other duties. During his college years, he worked as a work-study student in genetics, fisheries, and oceanography labs at the UW (where he cleaned glassware, identified seaweeds, and counted phytoplankton, respectively). He also directed traffic and sold tickets for the Washington State Ferry System, and did a brief stint as a busboy at a French restaurant in Pioneer square. As a post-doc, he taught marine biology and oceanography as an adjunct professor at University of Connecticut, Stamford. After completing his postdoctoral work, Professor Sean worked as a marine biologist for a startup oil spill response company, Ecomarine, (now Globeco), . Subsequently, he was employed as a Biotechnology Products Manager for an environmental products startup, Harvey Universal, in Torrance, CA. He also worked for a year as a technical editor for Groundwater Technology, an environmental remediation company, once a part of Fluor Daniels, in Irvine. In Fall 1996, he was hired full-time by Fullerton College. While at Fullerton College, he has also worked as an educational researcher and consultant, wrote an episode for a telecourse ("Survivors", The Endless Voyage, Intelecom), and published a textbook (Exploring the World Ocean, McGraw-Hill).
Professor Sean loves sharing his passion for the world ocean in the hopes that one day humans will realize that as our life support system, the world ocean deserves our respect and attention. As Meryl Streep says in The Living Sea, "We can't protect what we don't understand."
In his spare time, Professor Sean writes non-fiction, screenplays, novels, and docufiction, produces YouTube documentaries, travels throughout California in pursuit of the perfect nature photo, tends a reef tank and native plant garden, practices the cello and plucks at a ukulele, cares for five cats, and spends time watching soaps and reality shows with his partner of 18+ years.